The Mini Braid Method
Growing and Retaining Afro-Textured Hair in Braids without Extensions
The natural girl's guide to maintaining afro-textured hair in mini braids. Learn how to put them in, how to take them out, and everything in between.
For Sale Now! Get your copy for only $4.00 USD.
Purchase via Lulu.com and download your PDF copy instantly.
Click HERE to go to the Lulu Marketplace and purchase.
Ebooks can be purchased via the website Lulu.com.  You can download instantly via their site. If you have any questions or concerns that cannot be answered by Lulu, please email me at sales@minibraidmethod.com. 
Front Cover
Back Cover
Preview: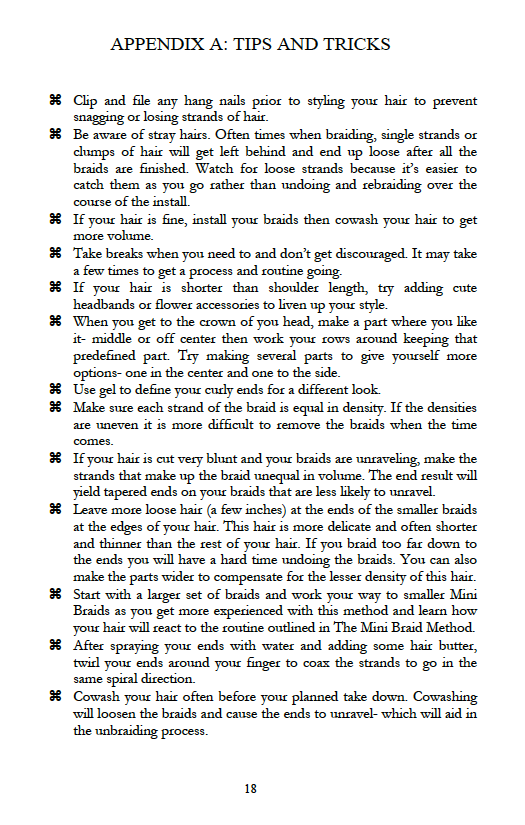 Description:
A guide to growing and retaining afro-textured hair with mini braids without added extension hair. Designed for the long term maintenance of curly or kinky hair- The Mini Braid Method details steps on caring for hair before braiding, putting in mini braids, maintaining those braids, and taking the braids out plus follow up steps. You too can have long, thick hair using this low maintenance Mini Braid Method TM.
Payment:
Checkout securely and safely with Lulu. Lulu accepts the following forms of payment.
PayPal

If you pay by eCheck on PayPal (directly from a bank account), it will take 3-4 days for your eCheck to clear and for the status of your account to show Paid.

Visa
MasterCard
Discover (US Dollars only)
American Express
Visa Electron if you are paying in GBP.
Lulu does not accept personal checks or money orders.
Delivery:
Download immediately via Lulu.com.
Product Details:
Copyright: Jayne Anderson 2014
ISBN 13: 978-1477573198
ISBN 10: 147757194
BISAC: Health & Fitness / Beauty & Grooming
Published: June 14, 2012; revised December 3, 2012
Language: English
Pages: 29
File Format: PDF
File Size: 569 KB
Page Setup: Single 6 x 9 Pages
Technical Specifications:
Required Software: Adobe Digital Editions, Adobe Acrobat, Apple Preview, Stanza
Supported Devices:
Windows PC, Mac OS, Linux OS, Apple iPhone/iPod Touch/iPad, Kindle, Blackberry, other portable devices
Number of Devices: Unlimited (per user)
For questions, comments, and concerns please contact sales@minibraidmethod.com.
All Sales Final.